Visiting Professors from Xingning Universty sign Agreement
with Shang Shung Institute
Visiting professors from Xingning University were in Shelburne Falls some weeks ago to sign an agreement with Shang Shung School of Tibetan Medicine directed by Dr. Phuntsog Wangmo (4th left). Graduates of the four-year program in Tibetan Medicine have the option for further studies in Tibet on completing their four year (eight semester) course of study either onsite or online.
Shang Shung US Tibetan Medicine Programs to Begin 2014
The next cohort of students to begin the Four Year Tibetan Medicine Program with online and onsite options begins February 2014. The Kunye Massage Program also begins.
For a full description of the programs in Tibetan Medicine, visit the comprehensive webpages here. For applications and further information about all the programs beginning in 2014, click here.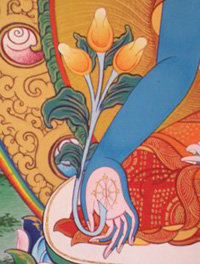 International Workshop on Integrative Medicine Mental Disorders and Dementia
with Chogyal Namkhai Norbu in Barcelona
January 10,11,12, 2014 LIVE WEBCAST. Visit here for the program and link to the webcast. This page will also have a time converter to your local time zone.