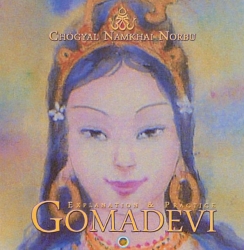 Hi Everyone,

What follows is a day by day schedule for the Khandroling Summer Intensive Practice Retreat, July 15th thourgh August 5th. Please join us for however long you are able. To stay in the schoolhouse dorm or camp on the land contact geko Jeremy at geko@tsegyalgar.org.
All dates and times are subject to change according to circumstances. Notice of changes will be posted to Tsegyalgarnet.
For further information visit the Tsegylalgar events page here.
Everyday from 8am-9am Goma Devi with Vajra Dance
Everyday from 9am-10am Complete Tun of Vajra Dance
Everyday from 10am-12 noon Karma Yoga
Lunch break at 12 noon.

Wednesday July 15th
3pm 25 Spaces of Samantabhadra
4:30 Yantra Yoga and Pranayama
6:00 Complete Vajra Dance Tun


Thursday July 16th
3pm 25 Spaces
5pm Complete Tun of Vajra Dance
6:00 New Moon Gana Puja (webcast so please arrive early). Sean will lead.

Friday July 17th
3pm 2 5 Spaces
6:00 Vajra DanceTun

Saturday July 18th
3pm 25 Spaces
4:30 Yantra Yoga with Pranayama-Martina
6:30 Complete Vajra Dance Tun

Sunday July 19th
3pm 25 Spaces
6:00 Complete Vajra Dance Tun

Monday July 20th
1pm Practicing Together
Open Webcast Mandarava Gana Puja (please arrive at 12:30) Naomi will lead.
3pm 25 Spaces 4pm Vajra Dance Tun
5pm Kaita

Tuesday July 21st
3pm 25 Spaces
4:30 Yantra Yoga with Pranayama-Naomi
6:00 Vajra Dance Tun

Weds July 22nd
3pm 25 Spaces
4:30 Yantra Yoga with Pranayama-Naomi
6:00 Vajra Dance Tun

Thursday July 23rd
3pm 25 Spaces
6:00 Vajra Dance Tun

Friday July 24th
3pm 25 Spaces
6:00 Vajra Dance Tun

Saturday July 25th
3pm 25 Spaces
4:30 Yantra Yoga with Pranayama-Martina
6:00 Vajra Dance Tun

Sunday July 26th
3pm 25 Spaces
5pm Vajra Dance Tun
6:00 Guru Rinpoche Day Gana Puja (webcast from Vajra Hall, so pls arrive at 6pm) Need someone to lead (pls email me)

Monday July 27th
3pm 25 Spaces
4:00 Vajra Dance Tun
5pm Kaita

Tuesday July 28th
3pm 25 Spaces
4:30 Yantra Yoga with Pranayama-Naomi
6:00 Vajra Dance Tun

Wednesday July 29th
3pm 25 Spaces
4:30 Yantra Yoga with Pranayama-Paula
6:00 Vajra Dance Tun

Thursday July 30th
3pm 25 Spaces
4:30 Yantra Yoga with Pranayama
6:00 Vajra Dance Tun

Friday July 31st
3pm 25 Spaces
5pm Vajra Dance Tun
6:00 Full Moon Gana Puja (webcast pls arrive at 6) Need someone to lead (pls email me)

Saturday August 1st
3pm 25 Spaces
4:30 Yantra Yoga with Pranayama-Martina
6:00 Vajra Dance Tun

Sunday August 2nd
3pm 25 Spaces
4:30 Yantra Yoga with Pranayama-Paula
6:00 Vajra Dance Tun

Monday August 3rd
3pm 25 Spaces
4:oo Vajra Dance Tun
5pm Kaita Dances

Tuesday August 4th
3pm 25 Spaces
4:30 Yantra Yoga with Pranayama
6:00 Vajra Dance Tun

Wednesday August 5
3pm 25 Spaces
4:30 Yantra Yoga with Pranayama
6:00 Vajra Dance Tun